After showcasing the best dance anthems from 2010, 2011 and 2012 – next up is 2013. Just like 2012, 2013 had many noteworthy releases which brought Avicii into the mainstream, Martin Garrix to the top of the dance world and more. Below we list 13 of the best and most impactful tracks of the era. It's not easy to narrow it down to 13 so be sure to read through our honourable mentions for a pleasant dose of nostalgia!
Avicii – Wake Me Up
When Avicii premiered 'Wake Me Up' at Ultra 2013, it was not well received along with the rest of his country-esque set. However, that reaction flipped when the song came to be released. Having just just recently hitting both 2 billion YouTube plays and 1 billion on Spotify, this record was everywhere soon after releasing. Together with Aloe Blacc, Avicii further broke down the barrier between dance and commercial. It was a smashing success, even being named as the highest charting dance track of the decade (2010-2019), sitting at No. 13 in the 100-strong list from the official UK Singles Chart. Whilst 'Levels' was a breakout hit for the Swede, 'Wake Me Up' saw Avicii break out of the dance music scene into the mainstream.
'Wake Me Up' is one of many insanely impactful contributions Avicii had to music. We certainly miss him and his music!
Oliver Heldens – Gecko
Before 'Gecko', Oliver Heldens was a fresh but underappreciated name in the scene. Once his name was attached the release, everything changed for the Dutchman. Spinnin' and Musical Freedom created mystery by labeling the track as 'ID – Gecko' – with fans speculating it was from some of the biggest acts in the world.
'Gecko' not only kicked off Oliver Heldens' career, it also started a deep/future house trend throughout the dance world. With this sound having largely fizzled out, we can still appreciate what it did and how good it actually was. Oliver teamed up with Becky Hill for the 'Overdrive' vocal version which put the production in front of the masses.
The music video is something different… to say the least. Best to watch for yourselves (maybe also by yourself).
Martin Garrix – Animals
Prior to release, the track gained buzz after being played anonymously. Speculation increased about the author after Dutch record label Spinnin' Records released a clip of the track online simply titled 'Animals (Teaser)'. The track was, at various times, attributed to other acts like Hardwell, GTA, Sidney Samson and Bassjackers before the actual identity of the producer was revealed.
With north of 1 billion views on YouTube and over 350 million through Spotify, this broke through the dance crowd and into the mainstream. Listening back now, for this type of record to hit the mainstream – it needed to be something special. The percussion big room sound that 'Animals' embraced spawned many follow ups throughout the industry – with the biggest genre throughout 2013 and 2014 largely this sound.
Garrix has since outdone himself, becoming a household name with releases such as 'Scared To Be Lonely', 'In The Name Of Love' and many others – both in the commercial and the dance space.
Showtek feat. We Are Loud & Sonny Wilson – Booyah
'Booyah' was everywhere in 2013, almost to the point of exhaustion. In 2020 we can appreciate the quality of the release and what it did for Showtek's career.
At the time, the bouncy electro house sound was fresh and new, 'Booyah' set in motion the sound that was used throughout the scene. Most notably, Showtek themselves utilised the sound in multiple records, specifically with their follow up 'We Like To Party' – the debut release on their Skint imprint.
Together with David Guetta, the duo released three records that utilize the sound in different ways dependant on the release year.
DVBBS & Borgeous – Tsunami
However they may be regarded these days, DVBBS, together with Borgeous, had a tremendous impact on dance music with 'Tsunami'. Produced by KSHMR also, whilst uncredited, it was a major release for him before he came out to the public eye as KSHMR. Later released on his label, Sander van Doorn was playing it out and it became quite the popular ID, until the names were finally unveiled.
Almost a year after the release, the vocal mix was released and re-titled 'Tsunami (Jump)', the new version featured vocals from English rapper Tinie Tempah. This more commercial approach paid off, with the record charting around the world, even achieving Platinum status in Australia.
Just like many records in this list, this track inspired various replicas. Dimitri Vegas & Like Mike later connected with DVBBS and Borgeous on 'Stampede'.
Alesso vs OneRepublic – If I Lose Myself
It is not often that a remix grows and becomes bigger than the original, but in the case of Alesso's take on 'If I Lose Myself' – the original was left in the dust. After working with the lead vocalist of OneRepublic; Ryan Tedder on 'Calling' – Alesso's pre-existenting relationship brought on remix duties, to the extent that it was nominated for a Grammy.
Alesso stated that he hadn't been this happy about a remix since his incredible take on 'Pressure', which is understandable as these would undoubtedly be his best two remixes to date. This remix, along with a string of impressive singles helped Alesso get to the point of commercial stardom that he is at right now.
Daft Punk feat. Pharrell Williams & Nile Rodgers – Get Lucky
When 'Get Lucky' was released, you couldn't go anywhere without it in your eardrums. The track was of course good, but after the thousandth listen, any song can become annoying. Listening back now, we can appreciate the quality and ultimately see why it did so well.
The song won awards for Record of the Year and Best Pop Duo/Group Performance at the 56th Annual Grammy Awards, during which Stevie Wonder joined Rodgers, Williams and Daft Punk onstage to perform the song.
Whilst it traversed the dance world and was largely one of the biggest songs in 2013 overall, the impact it had was monumental and brought Daft Punk back on top where they belong.
Dimitri Vegas, MOGUAI & Like Mike – Mammoth
After appearing in the 2012 Tomorrowland after movie (in its mashup form with M83's hit 'Midnight City'), 'Mammoth' became a much wanted ID. In 2013, unlike other Dimitri Vegas & Like Mike ID's at the time, it was released. With well over 200 million plays on YouTube and close to 50 million through Spotify – 'Mammoth' is absolutely a defining track of 2013.
A year and a half after the original release, on 1 September 2014, 'Mammoth' was re-released in a vocal version titled 'Body Talk (Mammoth)'. It featured vocals from Julian Perretta and was co-written by Matthew Koma. Though this version was not as successful as the original instrumental, it peaked much higher in Belgium and also charted in France.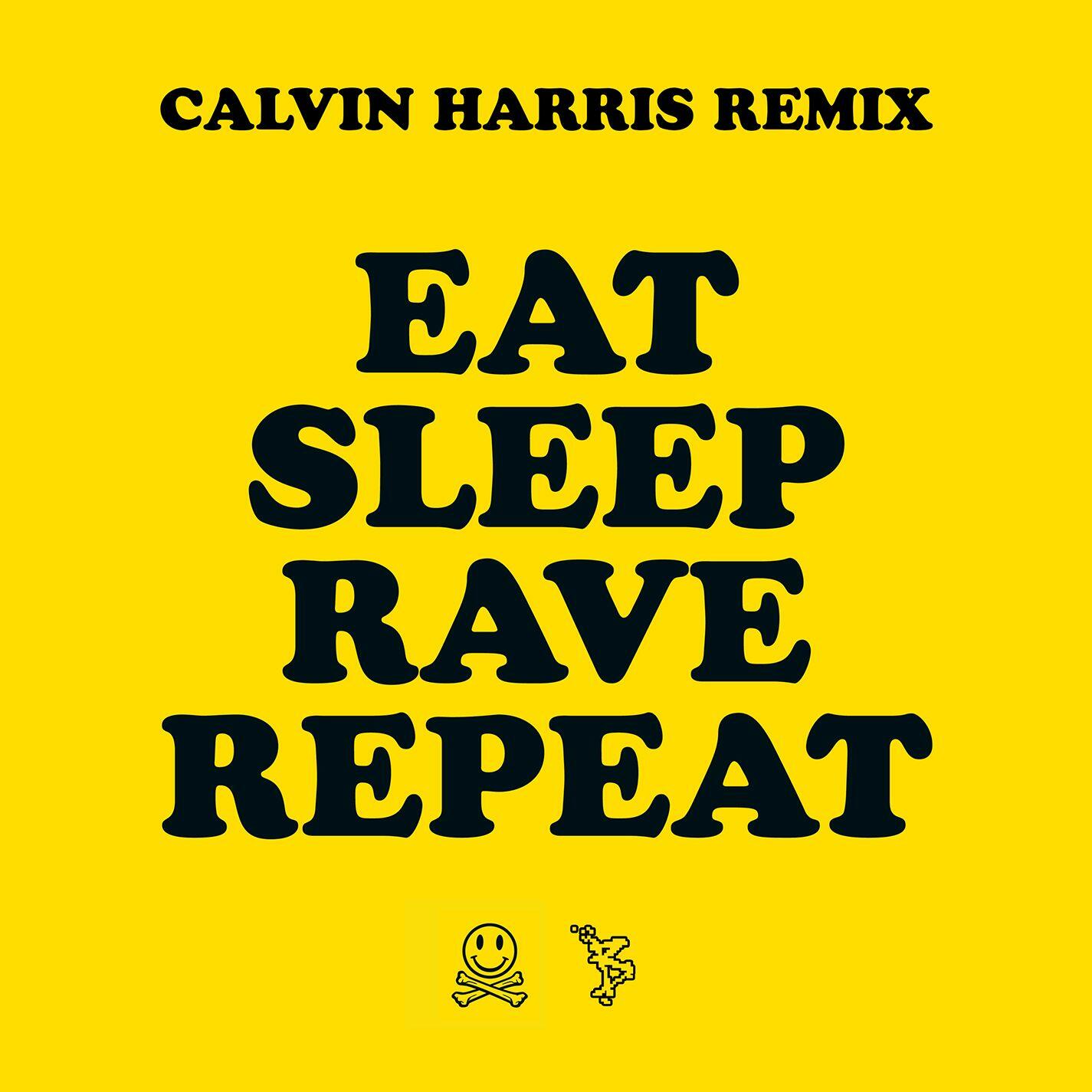 Fatboy Slim & Riva Starr feat. Beardyman – Eat Sleep Rave Repeat (Calvin Harris Remix)
Once Fatboy Slim and Riva Starr released 'Eat Sleep Rave Repeat', the lyrics engrossed the dance market and became a staple in every set. Whilst the original impacted the scene, it was the Calvin Harris remix that took it to the next level. The record's success had it land at #3 on the UK singles chart, becoming Fatboy Slim's first top ten since 2001. It features vocals from Beardyman who improvised all of the captivating lyrics and vocals in one take.
Even though it was released 7 years ago, the acapella is still frequently used today and there are no signs of its usage slowing down.
Dirty South & Alesso feat. Ruben Haze – City Of Dreams
'City of Dreams' marked a collaboration that does not occur often. At the time, Dirty South and Alesso were at the forefront of the melodic progressive house sound and them coming together was truly something magical. Linking up with Ruben Haze, the trio produced a masterclass of melodies and progression, a record that still holds up today – 7 years later.
The eclectic and uplifting vocals from Ruben Haze is the icing on top of the already incredible cake that is the instrumental. The lack of music such as 'City Of Dreams' in 2020 has us further appreciating how special 2013 was for dance music.
Calvin Harris & Alesso feat. Hurts – Under Control
Originally one of Alesso's elusive 2012 era unreleased IDs, Calvin Harris and Hurts came onboard to result in 'Under Control'. Not only did it have the star power to succeed – it was an incredible record with top notch vocals and one of Alesso's one of a kind melodies and sound designs.
With platinum and gold achieved in many countries throughout the world and a play count of over 550 million across YouTube and Spotify – the record was groundbreaking for everyone involved. Not only did this record stand out in the EDM community, it surpassed it and made its way onto radio and into the heads of average punters, largely by having Calvin Harris' name attached.
Tiësto – Red Lights
One of the numerous times that Tiësto has broken through to the mainstream was 'Red Lights' – the lead track of his A Town Called Paradise album. Featuring uncredited vocals from Michel Zitron, the track features everything you'd want from a pop dance release.
It became Tiësto's first number one hit in Scotland, his first top ten hit in the United Kingdom and his highest-charting single in Ireland and Australia. Additionally, 'Red Lights' also became Tiësto's second highest-charting single in the United States. The song also peaked at number two on the US Billboard Dance Club Songs and number six on the US Billboard Dance/Electronic Songs charts. During its lifetime, it achieved Platinum in Australia and the United States.
Lana Del Rey vs Cedric Gervais – Summertime Sadness
After Universal Germany commissioned the remix by Cedric Gervais, Interscope and Polydor later rejected it – not seeing its potential. After being released to a more dance friendly label Spinnin', it surged to #1 on Beatport and was then supported by heavyweights throughout the industry. After the initial and overall reaction from not only the dance space but throughout the pop world – Interscope reverse the decision and later signed the remix.
The track achieved 4x platinum in Australia and the United States, 2x platinum in Canada and the United Kingdom, 1x platinum in Mexico and gold in the Netherlands and New Zealand.
It definitely helped that the original version was a massive success. Across YouTube and Spotify, the two versions have a combined play total of over a billion. If consulting people today, the Cedric Gervais remix would likely be more familiar than the original.
---
Honourable Mentions
Dimitri Vegas & Like Mike brought 'Wakanda' to Axtone. This tribal big room record helped bring on the big room sound we know today. Speaking of Axtone, their boss Axwell teamed up with Sick Individuals and Taylr Renee for 'I Am'– a brilliant and melodic track that is still a stand out today. Axwell also released 'Center Of The Universe' and 'Roar' together with SHM partner Sebastian Ingrosso.
Nicky Romero released plenty of productions including 'S.O.T.U.' with Sunnery James & Ryan Marciano as well as 'Symphonica' and 'Legacy' with Krewella which saw both achieve gold in The Netherlands. Disclosure released their debut album 'Settle' and with that 'White Noise' together with AlunaGeorge.
#1 DJ at the time Hardwell released plenty of solid tunes including 'Never Say Goodbye' together with Dyro as well as collaborations together with Laidback Luke, W&W and MAKJ. Following his success with 'Who', Tujamo teamed up with Chris Lake and Steve Aoki for 'Boneless', a fresh take on the sound that did extremely well.
Steve Angello released 'Yeah' and also linked with Matisse & Sadko for the highly anticipated 'SLVR'. Porter Robinson teamed up with Mat Zo for the incredible production that is 'Easy', Mat Zo also released the underappreciated 'Lucid Dreams'. 3LAU and Paris & Simo got together for the progressive masterclass that is 'Escape', definitely one that deserved more attention.
French wonderkid (kid at the time) Madeon dropped 'Technicolor', a track that really represents Madeon's 'Adventure' sound. Duke Dumont released the perfect summer anthem in 'Need U (100%)'. Seven Lions, Myon and Shane 54 released 'Strangers', a record that would bring each act more into the forefront and familiarise audiences with what to expect from Seven Lions in the years to come.
Audien had a killer year, releasing awesome records such as 'Leaving You' and 'Wayfarer'. Tritonal released two of their best records from back in the day, 'Electric Glow' and 'Now Or Never' – two records any Tritonal/Enhanced fan will be very familiar with. Kaskade had a memorable year with the release of his album 'Atmosphere', with that a single of the same name and 'Last Chance' together with Project 46.
Knife Party embraced the EDM big room sound with 'LRAD' as did GTA, Henrix & Digital LAB with 'Hit It!' and Sub Focus with 'Turn Back Time'. Armin van Buuren released his album 'Intense' which saw 'This Is What It Feels Like', the track was a smashing success with hundreds of millions of plays. It also came with the W&W remix that saw plenty of support through out the industry.
Take a time machine back to 2013 with our playlist featuring everything listed above and more!